21 Feb

How To Stay Healthy On The Road, According To Bands Who Tour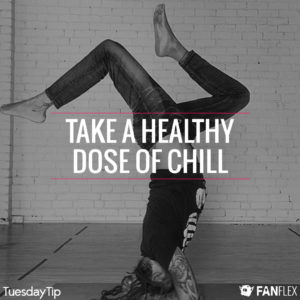 Original Article Found On: Triple J (Facebook, Twitter, Instagram)
When it comes to staying happy and healthy whilst enduring long stretches on the road, musicians know what's up.
Not only do they have to be away from home for months at a time, they need the stamina to continually put on a great show for the punters along the way. They basically need to find a way to somewhat still resemble a functional human despite being in a crusty situation…
And now you too can learn to kind of hold it together when you're taking a long trip! We asked for some hot tips from triple j friends Camp Cope, The Rubens, Stonefield, Northlane, Urthboy and In Hearts Wake:
NOT GETTING SCURVY
As Urthboy wisely told us, "most of the time you're approaching food like a comfort, like a distraction, like an escape…". All bands we spoke to heavily recommended limiting junk food consumption as much as possible.
Northlane guitarist Josh Smith told us he always tries to load up on fruit and vegetables. And whilst Sarah from Camp Cope admitted her and the band have relied on the good old servo pie on more than one occasion, she warned that "Regret City" always followed. Having said that, she also subscribes to the '1 coffee, 1 berocca, 1 beer' wake up method ("tried and tested")… so ¯_("~)_/¯
STAYING LIMBER
"Yoga and stretching is a must if you want to jump around on stage every gig and not wake up feeling like you've aged 50 years over night", says Ben Nairne from In Hearts Wake. And Josh from Northlane heartily agreed, saying that he aims to do about 90mins of yoga each day.
Ben also takes a frisbee on tour. Apparently all the In Hearts Wake boys love a bit of a toss.
HYGIENE MUST HAVES
Ben, of In Hearts Wake fame, strongly urges you to "try to shower at least once a day". He also thinks that if you have a bandwagon or bus — for those of us not in bands, this applies to any shared accom — "no shitting in the toilet, because everyone will hate you." Take that particular show elsewhere on the road.
As for other essentials, pack ALL the socks and undies. As Ben points out, "You can wear the same shirt and jeans for every gig but if you don't have fresh socks and undies and there's no laundromat nearby, you're going to have a bad time."
PARTY IN MODERATION
It can get real boring on tour. As everyone pointed out, "99% of touring is waiting around", which can be like travelling in general.
"It's very easy to get lost on tour … People are offering you drugs and alcohol all the time. It's pretty hard to not fall into that trap," says Scott from The Rubens. "I'm very conscious of being moderate with it, because every night's a party when you're gigging."
Amy from Stonefield agrees: "People often say party hard, have a great time, but I think that's not the greatest advice … take it easy and look after yourself."
"We are known around the traps to be nannas on the road … I try to avoid drinking unless it's the end of the run. After the show, pack up and get to bed as soon as possible so that you're feeling fresh as possible for the next day."
TAKING SOME YOU TIME
Unsurprisingly when you're a touring band, a lot of time on tour will be taken up with music and its related products. But everyone we spoke to prescribed making time for a healthy dose of ~chill~.
Getting outdoors can be a restorative experience (10/10 would do again), and one cool thing that you can do is immerse yourself in a body of water: it's nature's bath. Along with the frisbeeing, the members of In Hearts Wake like to "find cool waterfalls or swimming spots, which can change your day when you've been sleeping on the floor of a van."
Georgia from Camp Cope "watches a lot of RuPaul's Drag Race and drinks tea and water".
But once you've had that alone time and you're looking to get back into the game, In Hearts Wake have a bonding ritual (before they go on stage): "It's called The Dog Pound; just before we hit the stage one of us will say 'where my dogs at?!' and we all starting barking."
DEFINITE BAND DOs & DONTs
"Be prepared to learn a lot about your band mates. Be prepared to sleep on anything (once Georgia and I, along with Jeff Rosenstock and his wife Christine, all slept together in the bottom of a skate ramp… that was a time)" — Sarah from Camp Cope.
"Bring a kettle. The steam stretches your bits out and does good things for your vocal cords. Sometimes that might men putting a towel on your head and pouring boiling water into a cup and just sitting there and consuming it, like you've got a cold… it's a really great asset" — Urthboy.
And while touring can be lonely and draining, don't let it get you down. As the wise musical poet Ezra Koenig once said, "If you're lonely, bored, or unhappy, remember you are mad young. There is so much time to meet new people and go to new places."